Apr
2
Photo by Nikki Self
Amy Galoob, special education sophomore, sits in her teaching
class that talks about maintaining the classroom. Galoob was born deaf, but she
has cochlear implants that allow her to easily interact with teachers and
peers. She receives assistance from sign language interpreters and classmates,
but has otherwise flourished in the OU community.
There are stories all around the campus —in classrooms, across the dorm hallway, throughout the Oklahoma Memorial Union during the lunch rush.
A walk down the South Oval is a stroll past a library's worth of living narratives still being written. Most are average, many are plain boring, but there are a few stories that have a humbling and uplifting thread running through their pages.
Meet Amy Galoob, a special education sophomore, Colorado-native and member of Alpha Chi Omega sorority. A passerby's glance would illuminate a pretty, friendly, brightly observant undergraduate, but underneath the cover is a student who lives every day with a challenge many on campus don't experience.
"I was born profoundly deaf," said Galoob, sitting down for lunch. She was wearing a broad smile that one cannot help but reciprocate.
A daughter of two hearing-impaired parents, Galoob was born with little to no hair cells, which are responsible for making the follicles found in the inner ear that pickup and transmit sound information to the brain. Galoob's older sister and younger brother are hearing impaired as well.
However, with the help of cochlear implants, Galoob is able to listen and communicate in normal, everyday conversation — as well as dish out her delightful sense of humor.
"It's really a good gift, actually," Galoob said. "I'm able to unplug and sleep like a baby every night."
Bright and articulate, Galoob attends and participates in all regular classes for special education majors — in fact, she was recently asked by one of her professors to stand in front of one of her lecture hall classes and speak about her experience with hearing impairment.
However, Galoob also receives a bit of assistance from interpreters who translate lessons into sign language, as well as classmates who send her notes from each class.
"I'm usually able to hear my teachers just fine, but sometimes there are some important details I might miss, like test dates," she said. "So I definitely appreciate having interpreters and classmates who help me out in that."
As a resident of the Alpha Chi house, Galoob's sense of community is only solidified by the friendships she has with her sisters.
"My roommate is responsible for my complete rescue and safety in case of a fire or tornado emergency," Galoob said. "But joining Alpha Chi was such a great move for me, and I love all my friends there."
However, being hearing-impaired does come with its handy hidden talents. Most notably, Galoob has the ability to read lips.
"It was quite useful in middle and high school when gossip was very popular," Galoob said. "But I've toned back a bit."
The transition from high school to college was a bit rocky, Galoob said. But she said she has finally found some stability at OU.
Galoob's experience has influenced her future goals. She plans on specializing in teaching disabled children and students.
Hidden talents and greek groups aside, Galoob also is the new president of the Association for Disabled Students on campus. Although it's a role she's only inherited this semester, Galoob has big plans and deep passion for the group.
Although it seems life for Galoob is enjoyable and well defined, she admits her path has not always been this straight. Growing up with her challenges with hearing, as well as the trials of speech therapy, Galoob described her childhood by progressing through a handful of schools, searching for the one that would best meet her needs.
"There were definitely times it was difficult and hard to do. Always meeting new people, not really having that group of friends you go through elementary, middle and high school with," said Galoob. "But overall, I just love talking with people. And I really feel like I've finally found a solid home here at OU with a great school and great friends."
Jan
12
updated 1:24 PM EST, Wed January 11, 2012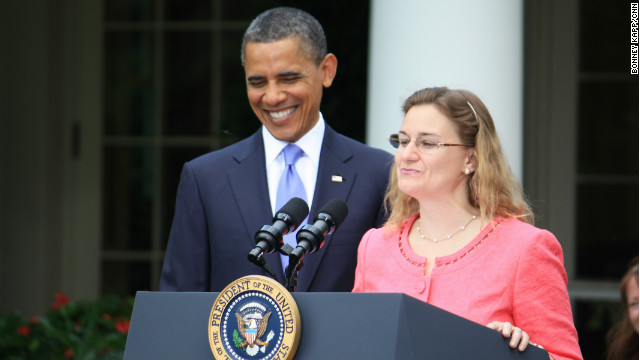 President Obama honors the 2011 Teacher of the Year, Michelle Shearer, in a Rose Garden ceremony.
STORY HIGHLIGHTS
A new study finds that good teachers have a lasting positive effect on their students
William Bennett: Study is one of most consequential educational surveys in recent years
The study shows that having better teachers can affect students' future earning potential
Bennett says it's time to reward good teachers and fire the lowest-performing teachers
Editor's note: William J. Bennett, a CNN contributor, is the author of the newly published "The Book of Man: Readings on the Path to Manhood." Bennett, the Washington fellow of the Claremont Institute, was U.S. secretary of education from 1985 to 1988 and was director of the Office of National Drug Control Policy under President George H.W. Bush.
(CNN) — A good teacher not only improves a child's test scores in the classroom, but also enhances his or her chances to attend college, earn more money and avoid teen pregnancy, according to a new seminal study.
The study, conducted by economists Raj Chetty and John N. Friedman of Harvard and Jonah E. Rockoff of Columbia, tracked 2.5 million students over 20 years from a large urban school district from fouth grade to adulthood, making it one of the largest and most consequential educational studies in recent years.
Their findings focus on the long-term impact of teachers based on their "value-added" ratings. This refers to the average test-score improvement for a teacher's students, adjusted for differences across schools and classrooms such as prior test scores. Evaluating teachers based on student performance has been the subject of much debate among teachers, unions and policymakers.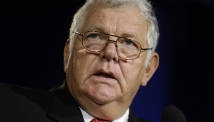 William Bennett
Teachers and teachers' unions have been largely critical of the value-added approach, arguing that test scores are not good indicators of teacher quality. However, many reformers, like Stanford's Eric Hanushek, argue that value-added ratings are some of the most accurate indicators for evaluating teachers and improving student performance.
This study puts the value-added approach to the test in a new way, measuring the short-term impact in the classroom as well as long-term impact, like a student's collegiate, career and family success. The authors found that "when a high VA teacher joins a school, test scores rise immediately in the grade taught by that teacher; when a high VA teacher leaves, test scores fall."
Most importantly, the study discovered that "students assigned to higher VA teachers are more successful in many dimensions. They are more likely to attend college, earn higher salaries, live in better neighborhoods and save more for retirement. They are also less likely to have children as teenagers."
The effect of a good teacher on a child's life is monumental. In financial terms, the study notes that replacing a teacher whose true value-added is in the bottom 5% with a teacher of average quality would generate lifetime earnings gains worth more than $250,000 for the average classroom.
On the other hand, "If you leave a low value-added teacher in your school for 10 years, rather than replacing him with an average teacher, you are hypothetically talking about $2.5 million in lost income," said Friedman.
The authors, two of whom were skeptical at first of the merits of value-added metrics, conclude the study by recommending that schools adapt value-added measures and fire the lowest-performing teachers.
Given the enormous contribution of good teachers to the lives of students, one would think the organizations that represent teachers would hail this study and disseminate its findings. This is not so.
Predictably, the teachers' unions have been silent. Acknowledging the realities of this study would require the unions to make distinctions between good and bad teachers and hold them accountable for their performance, something they seem incapable of practicing, much less institutionalizing.
It is ironic that a report that praises great teachers seems to be ignored by teacher organizations.
This study shows that, second only to parents, teachers are the most important part of a child's education. Great teachers make a great difference; poor teachers hurt a child's life chances. Isn't that all we need to know to embark upon a serious effort to reward good teachers and encourage poor teachers out of the profession?
Jan
5
To complete the scholarship application for the 2012-2013 academic year use the link below.
http://new.education.ou.edu/ntouch/scholarshipapplications
You will need the following items to complete a scholarship application:
* Narrative – to be typed or copy/pasted into the application form (Maximum 550 words).
* A name and OU email address from an OU faculty member to provide your faculty recommendation online.
* A copy of your unofficial OU Transcript in MS Word or PDF format.
* A copy of your OU-FAN (Financial Aid Award Notification) in MS Word or PDF format. [If you'd like to be considered for scholarships that require proof of financial need.] Available in Ozone <http://ozone.ou.edu/>.
If you have any problems using the application please let me know.
Chad Bailey, cbailey@ou.edu
Jeannine Rainbolt College of Education
The University of Oklahoma
820 Van Vleet Oval, Room 238
Norman, OK 73019
(405) 325-8445 ­ office
Aug
4
Whether you are a student, an alumni or friend of the college, or even an educator wanting to stay up-to-date on our programs, our social media platforms have you covered!  Links are listed below and we encourage any and all feedback you might provide to keep making us better.  Happy browsing!
May
4
Nous Sommes Arrivés! (We have arrived!)
I am finally in France! Our planes all arrived yesterday morning (Travis at 6:40, Emma at 8:25, and me at 9:40), and the airport was quite the adventure. We had not been told ahead of time where to go or how ot recognize M. Denizot when we arrived, so I was fairly anxious when I got off the plane. However, as I was last, I figured I would figure it out because I would see the familiar faces of Travis and Emma. I proceeded to collect my luggage, confused by the fact that I had not been given a customs form, nor was I stopped to go through any kind of customs check besides the checking and stamping of my passport. However, I had nothing to declare, so I guess all is well. As I exited the baggage claim area, I hoped to see Emma, Travis and M. Denizot standing in front of the arrivals exit waiting for me. Unfortunately, this was not the case. I proceeded to spend the next hour and a half walking back and forth, up and down the terminal, looking for any sign of a familiar face, or even for someone who might be waiting for me (had something happened? Was no one going to collect me?) I was close to tears, but persevered. I stopped at the ATM to withdraw the cash I would need later to pay for my dorm room and thought that if no one came, I could take a train or taxi to Amiens.
Finally, at about the hour and a half mark, I saw Travis. I almost burst into tears upon seeing him, but kept my composure. "Thank God!" I gasped, "I thought you left without me!" Soon after, M. Denizot appeared, and we introduced ourselves. "Je suis très heureuse pour vous voir, " I said, as I had to Travis, "J'ai pensé que vous êtes sortis sans moi!" But, as I soon learned, I could not breath easy yet. Emma was missing! Her plane had in fact landed, Travis and M. Denizot told me, and she had been on it, as they had confirmed at the information desk, but she was no where to be found! I asked if they had tried to call her, and, discovering that they had not, I whipped out my phone. "Sorry dad," I thought as I dialed her number on my American cell phone for the 4th time that day (I had tried to call her several times when I was lost myself). She didn't answer. I tried again. She didn't answer. Finally, I got a hold of her, and we learned that, after arriving and looking for Travis and M. Denizot at her terminal (the same one at which Travis arrived) for the better part of an hour, she had attempted to go to my terminal, thinking that perhaps she had misunderstood and was meant to find us there. However, the attendant at the information desk gave her the wrong information, and she was sent to Terminal 2D. I was at 2A. To make matters worse, when we called her, M. Denizot misunderstood her, and we ended up at 2B. Finally, after about another half hour, we found Emma, and we were able to get in the car and drive to Amiens, which was about an hour and a half away.For most of the drive, Emma and Travis slept, and I spoke with M. Denizot (in French!). I was thrilled that I was able to understand and converse with him, and also very thankful that my trip to England prior to my arrival had adjusted me to the time change, as I knew my brain would not be working as well if I, too, had just arrived in Europe.
When we arrived in Amiens, we went to L'IUFM (the education college) to eat lunch and meet a few of the professors. Perhaps most importantly, we met Anne Petit, who will replace M. Denizot when he retires. We also learned that she, and not M. Deinzot, would be the one with whom we will be working for the rest of our trip. Lunch was a bit overwhelming, as they all spoke very quickly in French, but after telling them that, they slowed down, and, to our relief (especially for pour jet-lagged Emma and Travis), Anne spoke in English for the rest of the day. She actually has a British accent when she speaks English because she taught there for a few years. She took us to check into our dorm rooms, and then showed us around the town a little bit and took us to the grocery store to buy essentials for the weekend, promising that we would have more time to shop at a larger grocery store later. We also each received "Une Carte Monéo" (Monéo Card), with which we pay for our meals at the University restaurants (for only 3 euro a meal!) Anne was enormously nice and helpful, and we were able to get ourselves settled in. The room is very small, but the view from my window makes up for it:
After we had moved in and Anne left us, the three of us went to the cafeteria for dinner, and then explored Amiens a bit. Emma and I actually ended up getting a little bit lost, but we are always able to find our way back to our dorm room by looking for the steeple of the beautiful cathedral we can see from our bedroom windows. Then, we returned chez nous (home), where we unpacked and then went to sleep.
Today, Jenny, one of the girls who came to Oklahoma from Amiens in March, and who was born and raised in Amiens, took us around the city, showed us how to take the train and the bus (the train for trips to Paris and other cities, the bus for getting around town), and gave us a brief introduction to all things Picard ("Picard" is the adjective describing things from the region of Picardie, where Amiens is located… picard:picardie :: french:france). We got to see the inside of the cathedral (it is the tallest in France, we are told), and I took many pictures, which I will post on facebook. We will go back there for a formal audio tour and to climb the tower next week as part of one of our courses. We also tried un macarron (a macaroon), which was invented in Amiens, and therefore is known as its specialty. It was delicious!  After our tour of the city, we said "Au Revoir" to Jenny, and we returned home with very sore feet! There is hope for me losing weight in France yet!
Overall, the trip has been wonderful thus far. The city is gorgeous, we know how to eat and a little bit about where to go, and have met some wonderful people. The beginning was rocky, but if that is the worse thing that happens, we are doing very well for ourselves. Travis and Emma are napping now, so I have time to update, and I will begin working on some of my schoolwork for the independent study I am doing while here. Later, we will all meet up to go into the city center (which Jenny showed us earlier) to eat dinner in a pub, cafe, or resto ("un restaurant" is often shorted to "un resto") there.
A demain (until tomorrow),
Felicity
May
4
Hello all,
The last time I updated was right before we went to Normandy and
Pierrefonds and Compiegne..
Saturday morning, Sibel (one of the students who came to Oklahoma), drove
Felicity, Travis and I to see the castles of Compiegne, and Pierrefonds. About
an hourish from Amiens. They were both beautiful. My favorite was Pierrefonds
because apparently part of Harry Potter was shot there. It also looked like a
castle out of a fairy tale. It was incredible. Compiegne was beautiful, the
gardens reminded me of the gardens of Versailles. It amazes me that these places
exist because they are so different from anything in the United States. It is
crazy to me that people just live in towns with these castles, and can look out
their window and see them. I am envious.
On Sunday, Amandine (one of the students who came to Oklahoma) took us to
Normandy. About a 3 hour drive from Amiens. It was such an experience..I am glad
that I got the chance to visit the location but, at the same time I wish a place
like that didn't exist. I'm not sure if that makes sense.. The beaches are
beautiful and the view is spectacular but, there is this gloom hanging over
everything. You can just feel it. The death and the pain are clearly still in
the atmosphere. It is very hard to explain how it feels to be in a place like
that. It is something that I think everyone should experience, because it really
makes you think about war and fighting in a different way. We went from beach to
beach seeing all the different locations, such as Omaha beach. Next we went to
the American cemetery and that is when everything just felt extremely real. You
walk down the path and slowly the graves start to appear..rows and rows of white
crosses that go on for what looks like forever. As you get closer the immensity
of the cemetery really takes over. I couldn't help but get choked up, I was
fighting back tears. All of these men and women…some only 18 years old, it is
heartbreaking. I walked through the rows and found an Oklahoman, but as I was
walking I saw a grave from almost every state. There are 9,387 graves..and
around 300 of them are unknowns, 4 are women. When you walk away from the
cemetary you walk towards the Garden of the Missing..which is exactly what it
sounds like. The garden that commemorates those who were never found..there are
1,557 names. And remember….these were JUST american soldiers.
Normandy was an incredible experience for me, although the weather was
awful. Very cold and rainy, though that is how the weather was in 1944.