Hi CMS friends!
We have been informed by some CMS users of a new issue they are experiencing, so I thought it only appropriate to use my love of GIFs to explain the issue and how we can help.
Have you and/or your department friends recently been upgraded to Office 365?
But when you try to add said department friends to a group, you are unable to do so?
Don't be Gretchen – don't tell your friends they aren't fetch and that they can't sit with you (or edit the website).
Never fear – we are here to help! Just send me the users 4+4 and the CMS group that you would like them added to and I will make the request that they be added.
Once the request is completed and your friend is ready to edit your website, we will celebrate, Barney-style.
We are working on getting a long-term solution to this issue – once this has been resolved, I will update you all here, and then, we celebrate, Chuck E. Cheese-style.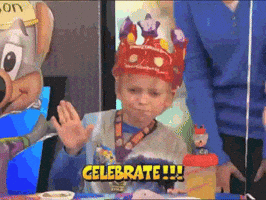 Until this is resolved, when you have CMS group issues, contact me, 'cause I got you.
NOTE: This seems to be an Office 365 issue, and we are working with IT on a long-term solution. We will keep you all posted.
Thanks, friends!
Katy