Hello readers! My name is Leslie. I am a MarCom intern for OU Housing and Food Services, and I wanted to talk to you about something near and dear to my heart: movies. It is already three weeks into the spring semester and if you're anything like me, Sooner Nation, you're probably wondering when this cold weather is going to go away. It seems like every day is spent curled up inside because the thought of leaving the house and stepping into the cold is horrifying. But what does one do with themselves when they are stuck in their house? Watch Netflix, of course!
I recently looked through the movie selections on Netflix and here a few of my recommendations for you to watch while we battle the rest of the winter.
Set It Up
"Set it Up" is a Netflix original movie that came out last summer and I am in love with it. It's such a charming story with characters who work really well together. The main actors have done films together before so their relationship appears very authentic on-screen. It's a romantic comedy so it can be good to watch since Valentine's Day is coming up or if you're just in the mood for one. The movie itself and the characters also have a lot of quirks so it's hard not to fall for its charm.
John Mulaney's New In Town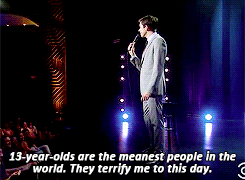 This one is technically not a movie, but no one can resist the comedic genius of John Mulaney. His storytelling is second to none and the way he can create a running joke to last throughout multiple bits is incredible. It was also funny to hear a line from a John Mulaney stand-up bit taken out of the context because they quote so hilariously. "New In Town" was my personal favorite because the doctor's visit bit was the funniest thing I heard in 2018, but "The Comeback Kid" and "Kid Gorgeous" are just as funny. Binge-watch all three!
The Emperor's New Groove
This movie was the staple of my childhood. It has fun animation with jokes that are timeless and only get funnier with age (as most childhood animated movies do). Yzma and Kronk are the perfect villain characters because their personalities make for endless entertainment. Plus, the constant bickering between Kuzco and Pacha provided the perfect dialogue for the movie. My sister and I used to quote the waterfall scene as kids anytime our parents would drive over hills (and by "kids" I mean until she graduated high school). Watching "The Emperor's New Groove" is always a fun time and I recommend!
Thor Ragnarok
There are other Marvel movies to watch on Netflix but "Thor: Ragnarok" stands out most to me because it is so different from the other 18 movies in the Marvel Cinematic Universe. The ambiance of the movie was closely matched by the "Guardians of the Galaxy" movies but there was still something special about it. The humor throughout the movie was perfectly timed and delivered, and the integration of Immigrant Song as Thor theme music was perfect. One of the most amazing things about it was that the lyrics actually matched the plot of the movie, which added another fun element. It's a great movie, with characters you love if you follow Marvel, and it adds so much to these already established characters.
Mulan
We need a Disney movie on this list and I think "Mulan" is one of the best. "Mulan" has a great soundtrack, story and message. It's a feel-good movie and a classic to spend the afternoon watching. As a plus: Eddy Murphy as a sarcastic dragon was one of the best casting choices in film history; you can quote me on that. Even if you have seen "Mulan" a hundred times, it is still a movie that you can watch over and over again and enjoy nonetheless.
Blackfish
Most of the movies on this list are fiction, but every once in a while it is good to sit down and watch something about the world around us. To me, "Blackfish" covers a really fascinating story, but at the same time highlights a serious debate regarding whether or not having animals in captivity is a good thing. The storytelling itself was really well done and keeps you engaged the whole time. If you're looking to watch a documentary, "Blackfish" is the way to go.
National Treasure
If you hadn't noticed, most of these movies are throwbacks because sitting down with your favorite comfort movie is the perfect thing for a lazy weekend. "National Treasure" is another movie from childhood that sparked a sense of adventure. As a six-year-old, nothing was better than watching Nicholas Cage solve riddles and go on a treasure hunt. Could this movie also have made my list because Nicholas Cage is my favorite actor (ironically)? You be the judge of that.
Spiderman: Into the Spiderverse
This movie isn't on Netflix but I had to give it a shout out because it is just that good. Sony Animation really outdid themselves with "Into the Spiderverse". They used the elements and ambiance of the comic book to create a new kind of animation we've never seen before, it was incredible! The movie was also insanely funny and heartwarming as well. The animation alone should draw you to see it, but the story will make you excited for a sequel. If you're willing to brave the cold, this is my top suggestion for a movie to go see. If you don't have the time or money to go see it in theaters, however, the Union Programming Board's Film Series will show it on March 1.
Union Programming Board's Film Series Movies
Speaking of the UPB Film Series, they also have a great lineup of films to go see every Friday night. They provide snacks, and viewing is free, so why not take the opportunity to see some of the best films released recently? You can find the complete list on their website.
There are plenty of other options on Netflix, but if you happen to find yourself in "binge-watch block," I hope this list gave you some ideas! So grab your favorite snack or blanket, a few friends and get to watching (once your homework is done, of course). Let us know your favorite shows and movies in the comments or on social media!